Honoring Diversity
Notable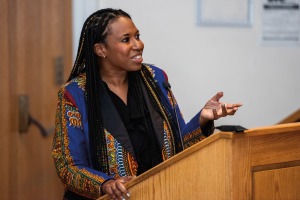 Dr. Aletha Maybank, chief health equity officer and senior vice president of the American Medical Association, delivered the annual Elizabeth A. Wilson-Anstey, EdD Lecture at Diversity Week.
In a celebration of Weill Cornell Medicine's commitment to fostering diversity, equity and inclusion in academic medicine, the institution honored nearly a dozen faculty, students and staff.
"By definition, a community is a body of various kinds of individuals who are united by a common purpose and interest," said Dr. Francis Lee, interim dean of Weill Cornell Medicine, during the Diversity Week event in April. "People often talk about diversity and inclusion in facts and figures, but the important work that you all do here at Weill Cornell transcends those facts and figures so that diversity, inclusion and belonging truly manifest all around us."
Each of the following recipients earned a $1,000 award and a commemorative plaque:
Dr. Juan R. Cubillos-Ruiz, the William J. Ledger, M.D., Associate Professor for Infection and Immunology in Obstetrics and Gynecology, received the Bruce Laine Ballard, M.D. Award for his work providing a nurturing environment for graduate and medical students, postdoctoral fellows and clinicians from underrepresented backgrounds.
Dr. Andrés Ricaurte Fajardo, a clinical research fellow in the Division of Molecular Imaging and Therapeutics in the Department of Radiology, received the Louis Wade Sullivan, M.D. Award for Excellence in Public Health Advocacy, including for his work in addressing health equity disparities in rural and indigenous parts of Colombia.
Dr. Zoltan Antal, chief of the Division of Pediatric Endocrinology and director of the Pediatric Diabetes Program, earned the Marie Metoyer, M.D. Award, bestowed on a faculty member who goes above and beyond in serving underprivileged communities, while epitomizing the legacy of Dr. Metoyer, the first Black woman to graduate from Weill Cornell Medicine.
Ifé Akano, a Weill Cornell Graduate School of Medical Sciences pharmacology doctoral student, and Natalie Nguyen, Weill Cornell Medicine Class of 2024, received the Ida Sophia Scudder, M.D. Award for Excellence in Public Service. While Akano spread awareness about STEM careers to underrepresented populations, Nguyen advocated for unhoused populations and launched a student-run clinic for people who inject drugs.
Sheena Rumnit, assistant director of admissions, received the Administrative Staff Award for her help building a diverse community of students and future health-care leaders at Weill Cornell Medicine.
Dr. Monika Safford, chief of the Division of General Internal Medicine, director of the Cornell Center for Health Equity and the John J. Kuiper Professor of Medicine, earned the 2023 Jessica M. and Natan Bibliowicz Award for Excellence in Mentoring Women Faculty.
Three faculty members and a research associate received Ritu Banga Healthcare Disparities Research Awards, which provide $50,000 of one-year research funding to investigators whose work seeks to improve the health of underrepresented minorities and achieve health equity for people locally and globally:
Dr. Melissa Frey, assistant professor of obstetrics and gynecology
Dr. Kevin H. Kensler, assistant professor of population health sciences
Dr. Andrea Temkin-Yu, assistant professor of psychology in clinical psychiatry
Dr. Maria Revuelta, research associate in medicine
Summer 2023

Front to Back