High-Risk, High-Reward
Exchange
Two enterprising scientists discuss how the ecosystem for innovation at Weill Cornell Medicine provides the support entrepreneurial faculty and students need to turn their promising research into commercially viable drugs and other treatments.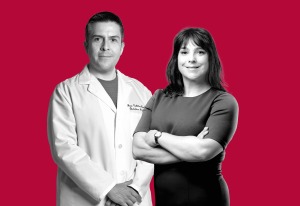 Left to right: Dr. Juan Cubillos-Ruiz and Dr. Lisa Placanica
As the senior managing director for the Center for Technology Licensing at Weill Cornell Medicine (CTL), Dr. Lisa Placanica (B.A. '00, Ph.D. '09) leads the office responsible for intellectual property and commercialization matters for innovations arising from the institution. Dr. Juan Cubillos-Ruiz, the William J. Ledger, M.D., Distinguished Associate Professor for Infection and Immunology in Obstetrics and Gynecology, received support from the Daedalus Fund for Innovation for his research on a specific protein target in the endoplasmic reticulum stress response pathway as a potential new form of cancer treatment. With the help of CTL, he co-founded an immunotherapy startup that, for several years, pursued the development of first-in-class drugs blocking this pathway.
How entrepreneurship and innovation in academic medicine has evolved in recent years
Dr. Placanica: There's been a sea change since the 1980s, when few schools had infrastructures to support the translation and transfer of innovation from the academic side to commercial partners to further develop products. Almost two years ago, Weill Cornell Medicine and the university committed to establish Enterprise Innovation as a formal integration of all the groups that touched on innovation previously in the medical college. We train the next generation to look at their science from a different perspective, to learn different things about discovery and intellectual property and about why a commercial entity wants to see a particular data set. We train scientists to think like businesspeople.
How academia serves as a safer, freer environment to pursue risky or outside-the-box ideas
Dr. Cubillos-Ruiz: You have more freedom, for sure, compared with industry or a typical pharma company. In academia, the principal investigator of the lab can do research in untouched areas, and that's exactly what happened to me. Scientific freedom is fundamental for this type of high-risk, high-reward innovation.
Dr. Placanica: I second that. The freedom to do groundbreaking foundational research on the academic side is exactly why companies and investors want to partner with academia. Many companies and investors don't have the type of research infrastructure to do discovery research, so our job is to discover new, fundamental biological insights, get to the starting point of what we think a product could be, and then form that commercial partnership. It's a win for both sides because the commercial entity now has a new potential first-in-class drug or device, and we're handing it off to them for further development. It's a nice symbiotic relationship.
What distinguishes Weill Cornell Medicine's ecosystem
Dr. Cubillos-Ruiz: It's extremely collegial and collaborative here. Everyone is willing to help each other, to engage. Being a part of NewYork-Presbyterian/Weill Cornell Medical Center, we make strong connections with clinicians, and that facilitates and propels things in terms of academic medicine and of commercialization and finding new opportunities for technologies and science. As a scientist, it's
Candyland because you can interact with everyone freely and access technologies and knowledge easily.
Dr. Placanica: One thing that makes Weill Cornell Medicine unique is that it's around 200 miles from the parent university. Instead of having one office serving the whole university intellectual property portfolio, Cornell has established a footprint in New York City — Enterprise Innovation — that's dedicated wholly and solely to leveraging the infrastructure and support of the university's larger innovation ecosystem and focusing on health care, building commercial networks and partnerships in that field, and on educating faculty about intellectual property, innovation and entrepreneurship. We essentially have the equivalent of a fully functioning technology transfer office just for Weill Cornell Medicine, operating in tandem and collaboration with the university.
New York City as a growing hub for academic entrepreneurship
Dr. Placanica: When you think about how many major academic medical institutions and universities are packed on a tiny island, the amount of top-notch science coming out of Manhattan is astounding. Recently, there's been an increased focus from the venture community to scout opportunities here. There's also an increased effort from the city and the New York City Economic Development Corporation to establish space for these companies to flourish in the biotech space. And when you consider the number of pharmaceutical companies on the East Coast, it's a ripe environment.
Dr. Cubillos-Ruiz: New York is an incredible place for philanthropy. The number of benefactors and foundations that are devoted to supporting high-risk, high-reward basic science in New York is unparalleled.
The benefits of pursuing commercialization from within academia
Dr. Cubillos-Ruiz: The experience has been truly transformational. As a graduate student or postdoctoral fellow, I never imagined that I would be able to develop first-class technologies and spin out a company, especially from within academia. While our initial company is no longer in operation, we are pursuing exciting opportunities to partner with other investors and medical centers to take
our technology to the next level.
Summer 2023

Front to Back